One Great Day
by James Jackson
Editors note: Last summer, James attended the Bobwhite Brigade camp near Rolling Plains, TX. In the months following, he shared his conservation knowledge and skills with numerous groups and was rewarded for his efforts with a day of quail hunting, hosted by Dr. Dale Rollins. This is his account of the experience. For more information about the Bobwhite Brigade or to have James speak with your group see the link at the bottom of the page.
The day was February 4, 2004. No matter what I did, it would not come fast enough, but when that day finally arrived I was ready, even though my aim was not. The morning had come to meet our county agent, at his home and ride to the ranch where we were to hunt. When I arrived at his house I was waiting in his pickup while he was waiting in his house for me, but we finally found each other and headed for the ranch. When we arrived, Dr. Rollins, founder of the Bobwhite Brigade camp, and the rest of the hunting party were still sleeping. We immediately started cooking a big breakfast to wake them up. The smell of sausage frying summoned all of them to the kitchen quickly.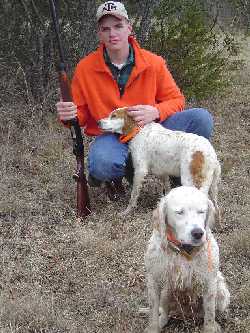 James Jackson, Annie and Doc

After breakfast the ranch manger gave Dr. Rollins a brief tour of the ranch. Then we released Dr. Rollins' exceptional bird dogs, Annie and Doc, out of the truck to find the quail. We followed them a little ways in the truck. When the dogs were on the ground Dr. Rollins would not allow anybody else to drive. Shortly those great dogs found the first covey of the day, and it was a good size covey. To me any covey would have been great because it was my first time to ever see a covey flush. There was only one person who killed a quail out of that covey and it was not I.

Even if my aim was not very good, it was one great day to hunt behind bird dogs as skilled as Annie and Doc. When on point they were like statues, frozen solid. If there was a covey across the fence, Annie would get there whether it meant going over, under, or through. When the covey was found Annie was on point again.

Before we had hunted very long the ranch owner arrived to hunt with us. Around noon we all went back to his house for some one-of-a-kind elk stew and wonderful coconut cream pie. After lunch we continued our hunt.

We walked and walked but no quail were found. We moved to another place and Annie and Doc found two coveys and pointed a few singles. This was where I finally got my aim right and shot my first quail. What fun!! Even though Dr. Rollins was not carrying a shotgun he still ended up with the most quail in his bag, because Annie and Doc would only retrieve to him.

When the day was nearly over. I realized that I had been quail hunting all day long, and had enjoyed every minute. Just getting to watch Annie and Doc was an experience of a lifetime. The time in the outdoors with good friends and good dogs was wonderful; also the big lunch was terrific! Dr. Rollins promised Annie she would hunt again with people who could shoot and hit because I did not do very well.

This one great day happened because last summer my county extension office suggested attending the Rolling Plains Bobwhite Brigade camp. The deadline for the application was two days away and no one else was interested in going. A friend of mine had gone a few years ago and had told me how exciting it was. Scholarships are available for this camp so I thought "it is not going to cost me anything but time so I might as well go". I hurriedly sent in my application and was accepted. The Bosque Soil and Water Conservation District was willing to sponsor me.

When I arrived at the camp they wasted no time getting started. Within the first hours we had learned about quail behavior, dissected a quail, and placed a radio collar on another quail with hopes of tracking and recapturing the bird in a couple of days. We also learned about the hunter's role in conservation and how to manage the land for future generations. This camp uses a 6-inch bird to teach leadership, communication skills, critical thinking and teambuilding.

As the day went on I thought of what I had accomplished in earning this one great day. My goal when I arrived home from the Bobwhite Brigade camp was to complete 10 programs about the Bobwhite Brigade before November 1, in order to qualify for a one-day quail hunt. I have presented programs for 4-H clubs, Lions Clubs, Methodist Men's breakfast and County Commissioners Court. I have also set up promotional displays at many locations.

The motto of the camp is "Tell me and I will forget, Show me and I will remember, Involve me and I will understand". Going to this camp has helped me gain a better understanding of conservation, wildlife management, leadership and public speaking. This has been one of the best experiences I have ever had. I have a message below for Annie the most wonderful bird dog.

Dear Annie,
I want to apologize for being disrespectful to you on that one great day. What made that quail hunt fun was you, Annie. You were the most exciting part of my first quail hunt. The skills you and old Doc exhibited that day were amazing, I have never seen anything like that before. It wasn't your fault there were only 4 coveys of quail on the entire ranch. Annie, I hope one day to have the opportunity to hunt behind you again. You are one great dog!

Sincerely,

James Jackson
11th Battalion Rolling Plains Bobwhite Brigade

For more information, the Texas Brigades website is www.Texasbrigades.com. I am available to do programs for your group or organization. My phone number is 254-435-6181.




Windows users press "CTRL+P" to print this page

Mac users press "Apple/Loop+P" to print this page