A Conversation with Quail Unlimited's Jerry Allen
On July 21st of this year, I had the pleasure of visiting with Jerry Allen, Director of National Operations for Quail Unlimited, at his office in Edgefield, South Carolina. We talked a little about where quail and Quail Unlimited have been, and we talked a lot about where both of them are going. Following are some of the highlights of our conversation.
All Things Quail: Most everyone knows that QU exists to help preserve and, ideally, increase the populations of quail. Is there anything else that QU does that you feel most people are not aware of?
Jerry Allen: We're working on a habitat demonstration area out here behind the office. In conjunction with the US Forest Service and the South Carolina Department of Natural Resources, we hope to eventually have over four thousand acres managed primarily for quail. Through seminars and workshops, the demonstration area will be used to train biologists, landowners, and others in the best ways to manage property for wild quail.
We also fund quite a bit of research on many factors that influence quail populations. There will be some detailed information about this in next month's Quail Unlimited Magazine.
What are the biggest challenges facing QU over the next five to ten years?
How about if I give you the top three? Legislation that will allow the trapping of predators and raptors is a big one. Predators and raptors have a tremendous negative impact on quail populations, and since trapping is outlawed in most areas where quail exist, there's not a lot we can do to control the problem. You can have the best habitat in the world, but the quail have to live long enough to make use of it. Re-enacting trapping legislation would be a big step in this direction.
Habitat development continues to be a big challenge (more on this later in the interview).
We'd like to get states to start trapping and transplanting wild quail. This is something that has worked with turkey, and if the proper habitat is present, there's no reason this shouldn't work with quail.
At this point in the conversation, we were joined by Rocky Evans, executive vice president of QU. We discussed habitat a little more, and both Rocky and Jerry were quick to point out a fourth challenge:
Jerry: If I could add one more to that list…fescue eradication.
Rocky: There are over 120 million acres of fescue that the government has paid people to plant.
Jerry: Fescue really has no benefit to wildlife, but the warm season grasses it replaces are very beneficial to wildlife, including quail.
What is currently at the top of your priority list?
Jerry and Rocky: Habitat.
Be sure to visit
Quail Unlimited's web site
Rocky: In addition to the decline of the family farm over the last forty years or so, we now face situations brought about by programs that, ironically, were instituted to help land and landowners. Many of the old fallow fields that provided food and protection for quail are now planted in CRP pines. Lots of timber farmers are using the wrong kind of chemicals, which eliminates the undergrowth completely. It looks like pine trees planted in a desert.
Rocky has quite a mind for statistics, and among the facts he gave me during the course of the conversation, one genuinely shocked me: in the state of Georgia last year, more deer were killed than quail.
How is QU responding to the habitat situation?
Jerry: Most of the field work done by QU is done through the chapters. These chapters are extremely active in planting food plots, purchasing and using equipment to improve land, and in some of the western states they help supply badly needed water to dry areas.
An ongoing initiative involves our efforts to make state agencies aware of the need for local programs that benefit small game and, in particular, quail.
Rocky: This is not a problem that's going to be solved in a year or two, but we've got to keep at it. If we don't continue to stress the need for good habitat, the problem will only get worse.
Another project that is showing some promise is our efforts to get power companies to manage their power line right of ways (ROWs) for wildlife. Most power companies mow these ROWs, which destroys wildlife. We're working with them to encourage the use of selective herbicides to control the growth of the plants that are not beneficial to wildlife. We're also encouraging them to manage the edges of these ROWs. There are two million miles of power line ROWs in this country, most of which run through rural areas and many of which run right to farm houses. That's four million miles of potential edge cover.
Most of the power companies are not opposed to the idea, but they fear the public's perception of the use of herbicides. They don't want an "Agent Orange" scare, and that's where we come in. Our effort will focus on throwing a public relations blanket out that makes people aware of the high benefit and low risk nature of selective herbicides like Arsenal and Plateau. Hunters who want to help should contact the person in charge of ROW maintenance at their power company and voice their support of managing ROWs for wildlife. If the power company is not aware of this concept, have them contact QU.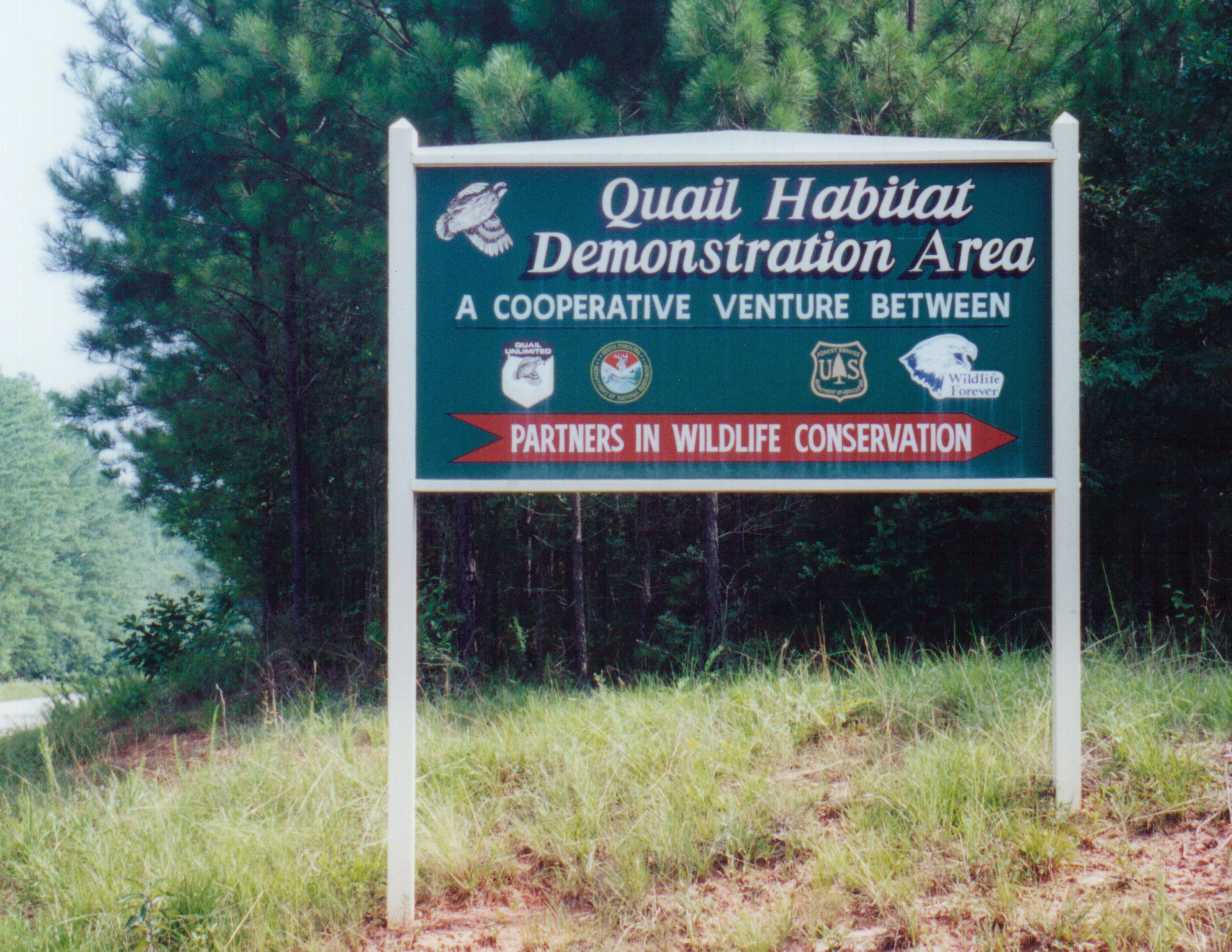 Entrance to the quail habitat demonstration area
Is there anything in Congress that you see as either very helpful to or very detrimental to the future of the quail?
Rocky: The new Farm Bill includes provisions that are very pro-wildlife. Portions of the bill support the thinning of pine forests, establishment of fire breaks, and the creation of wildlife openings.
Congress does need to make money available to compensate farmers for creating quail habitat. Simple things like leaving three rows of corn standing at the edge of a field are very beneficial, but the average farmer won't do this unless he's paid for it.
Rocky left to field a phone call after answering that question, but Jerry and I continued our conversation.
What would you suggest the average QU member do to help the organization? By average, I mean the guy who doesn't own land, doesn't have deep pockets, but enjoys hunting quail and wants to see future generations enjoy the sport.
The best thing he or she can do is talk it up among friends. We need more people involved in this. We need the support of members and even non-members. Spread the word among your hunting buddies.
If I may use the word typical, what's a typical day like for Jerry Allen?
Forty or fifty phone calls, several meetings. I do a lot of work on new and ongoing programs and direct mailings. There's the work on the magazine and other publications. And of course there's the management of personnel.
Do you ever get to go quail hunting?
Not as much as I'd like to. Rocky and I haven't had a planned vacation in years, but I'd guess I manage to go hunting a half dozen times a year.
Jerry and Rocky could not have been more hospitable to me and invited me to stop in any time. They have a beautiful headquarters- as a lover of hunting art, I was particularly impressed with the collection of bird dog and game bird prints adorning the hall and office walls. Their habitat management demonstration area is a work in progress, and they are delighted to give tours of it. Call ahead to schedule a visit.
Quail Unlimited has taken a very tough challenge and met it head-on. The staff of QU can't do it alone, however, and the support of avid hunters like each of you is critical. Join QU at whatever level you can afford, and take the initiative to call your local power company and your state department of natural resources and voice your support of pro-quail projects. As the well-known outdoor writer Joel Vance explained to me, "One person does not make an impact, but a whole lot of one persons do."

&nbsp

Windows users press "CTRL+P" to print this page.




&nbsp

Mac users press "Apple/Loop+P" to print this page